"SURREALISTIC, POIGNANT, COMIC…A MESMERIZING TRIP." —West Coast Review of Books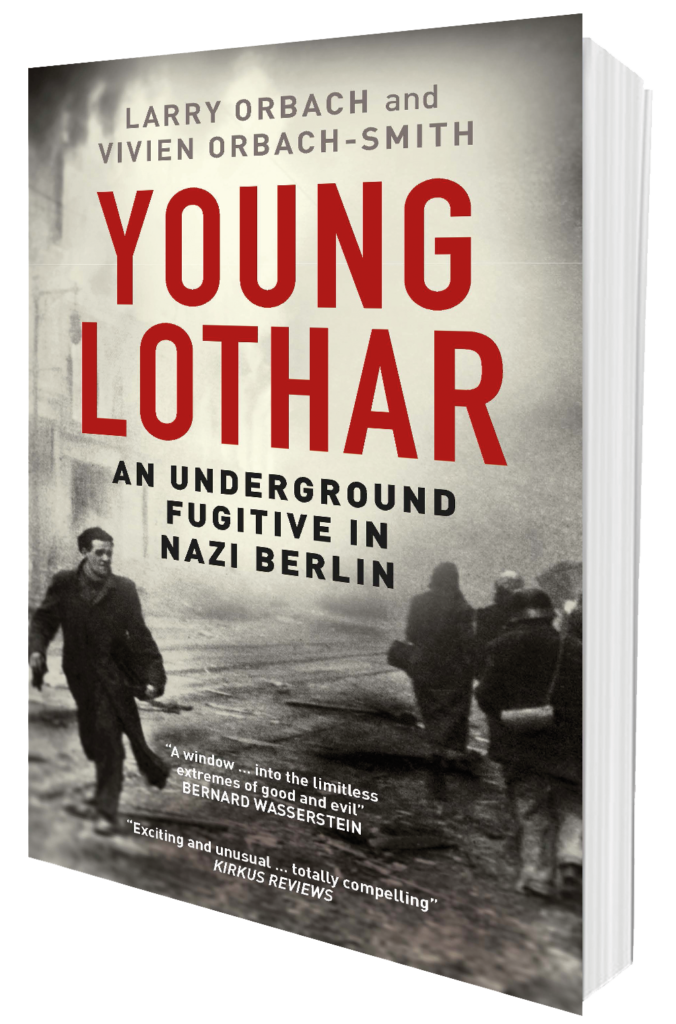 LOTHAR BELIEVED GERMANY WAS HIS COUNTRY AND THEY WERE HIS FRIENDS.
HE WAS DEAD WRONG.
Buy the Book:   Amazon     Barnes & Noble
ABOUT THE BOOK
"I sometimes ask myself—would anyone, either Jew or non-Jew, understand this about me, that I am simply a young girl badly in need of some rollicking fun?"—Anne Frank, The Diary of a Young Girl
Unlike his age-mate Anne Frank, YOUNG LOTHAR ORBACH was hiding in plain sight, a Jewish teenager living in the belly of the Nazi beast: a dystopian Berlin already declared "Judenrein" (free of Jews). Submerged in the city's dangerous underground, Lothar was able to taste life in ways that Anne could only dream about. And he lived to tell the harrowing (and sometimes hilarious), death-defying, life-affirming tale.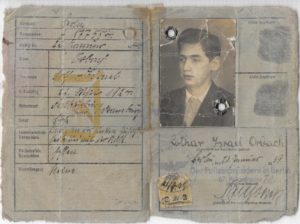 HE began life as a patriotic Jewish boy who revels in the culture of Germany and cannot comprehend at first why he's been barred from the pageantry (and pretty girls) of the Hitler Youth. Within a few years, however, Lothar Orbach and mother Nelly are among the last Jews in a city declared "Judenrein." After a heart-stopping escape from the Gestapo on Christmas Eve 1942, they are suddenly fugitives, forced to take on new identities using Aryan IDs purchased on the black market. Nelly Orbach (now "Ida Peters") is hidden by by a family of courageous resisters. Eighteen-year-old Lothar, aka "Gerhard Peters," becomes submerged in the Berlin underground, a secret network of Hitler's so-called undesirables. To elude capture and live another day, the tauchers ("divers") of the underground will steal, lie, cheat, whore…even kill rather than be killed. The Berliners they encounter along the way challenge every notion of good and evil.
"Gerhard" proves to be a disturbingly adept con artist. For cash, he hustles pool in a seedy billiard-hall and takes part in wildly risky scams and heists. For shelter, he battles bedbugs in a brothel or warms the beds of lonely Nazi wives. For food, he'd do anything. For true human connection—he'd give everything.
His light is nearly extinguished when he is betrayed and sent to Auschwitz and, ultimately, on death march to Buchenwald. Yet Lothar clings to his faith in someday being reunited with his mother, in the decent Germans he encounters in unexpected places, and in the God he feels "always sitting, albeit silently," on his shoulder.
Today, with the drumbeats of neo-fascism, racism, anti-Semitism and xenophobia escalating worldwide, YOUNG LOTHAR serves as a cautionary tale with an uplifting message: the true story of an innocent youth whose world has been destroyed by political turmoil and baseless hatred—and a powerful anthem to finding hope, meaning and even a measure of  joy in the darkest of places. (I.B. Tauris Publishers, London, 2017)
    Click arrow to for music by Lothar's son: "Great White Boat (Refugee Song)" ©1995 Ricky Orbach/Kohane of Newark.

ABOUT THE AUTHORS
Vivien Orbach-Smith
VIVIEN is an American writer, freelance book editor and writing coach. Since 2001 she has been an adjunct associate professor in New York University's Arthur L. Carter Institute of Journalism. In 2018, she was honored with NYU's "Outstanding Teaching Award."
It was in the early 1990s that Vivien began collaborating with her father on this unusually frank memoir of coming of age under Hitler. It was originally published in 1996 by a U.S. small press, garnering critical acclaim (see Reviews) under the title Soaring Underground. 
An eloquent voice of the Second Generation, she addresses audiences of all backgrounds on the complex legacy of the Holocaust, drawing critical lessons on safeguarding democracy, upholding social justice and diversity, and breaking free of the yoke of inherited trauma. She is also the narrator of a GPS-guided walking tour in Berlin based on young Lothar's life.
Says Vivien: "Growing up in New Jersey, my brother and I were fiercely loved and overprotected by our parents and a proverbial 'village' of dogged Holocaust survivors, determined to raise us as proud Jews and whole human beings—educated, empowered, empathic and unconquerable. It's become our legacy to ensure that bigotry and authoritarianism never become acceptable in our society."
She and her husband live in Connecticut and have three grown children and three grandchildren. (Photo © Devin D. Curry)
Larry Orbach (1924-2008)
LARRY (Lothar) was born in Falkenburg, Pomerania, the youngest son of general-store owners Arnold and Nelly Orbach. In 1928, with anti-Semitism on the rise in their provincial town, the family moved to Berlin in in search of a more "enlightened" society. But by the time Lothar was 18, his older brothers had fled to the U.S., his father had been killed in the concentration camp Sachsenhausen, and he and his mother were among the last Jews in Berlin.
The two years he spent submerged in the Berlin underground are the centerpiece of this memoir. His impetus for telling his story: "Young people caught up in war are often viewed as one-dimensional, defined solely by their suffering. This turns them into 'The Other,' stick-figures who are difficult to relate to. In fact, they dream the same dreams as all other young people, yearning for freedom, experience and human connection."
In August of 1944, Lothar was captured and sent to Auschwitz, then to a labor camp (Niederorschel) and finally on a death march to Buchenwald, where a day later ("surely my last day on earth"), on April 11, 1945, he was liberated by American forces.
After a year of working with American Intelligence in Berlin, Lothar – now Larry – emigrated to the U.S. with his mother. In New Jersey he met his future wife, Ruth Geier, also a refugee from Berlin. They married in 1949 and had two children, Vivien and Ricky.
Larry for many years was the proprietor of a successful jewelry messenger-service he launched in lower Manhattan. He and Ruth, a travel agent, were active in their local Jewish community and supporters of Jewish causes worldwide.
During the years surrounding the original publication of this memoir, Larry spoke widely about his experiences and was named to the New Jersey State Commission on Holocaust Education.
After the death of his beloved wife in 1999, Larry lived out his final years in New York City, surrounded by his family, including five grandchildren, and many friends of all ages and all walks of life.
Lothar's Gallery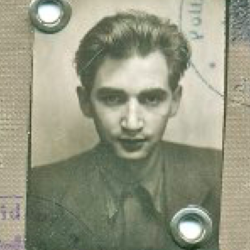 A Desperate Young Dreamer
A loyal son of his parents, of Germany and the Jewish people, LOTHAR ORBACH was trapped in a nightmare world where rules no longer applied and one false move could cost him his life. Masquerading as "Gerhard Peters" was insanely risky...but perversely it also gave Lothar the freedom of movement he hungered for (but never had, as a Jew under Hitler), to grab what might be his only taste of adult life. (Background photo: Lothar's "kennkarte" from 1939, when he was 15. The superimposed "J" identifies the bearer's religion, as does the middle name issued by the Nazi regime to every Jewish male: "Israel." NOTE: background photos not visible on smartphones.)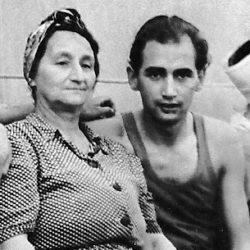 A Steadfast Mother
Astute and steely-strong, NELLY ORBACH was her family's rock and a mainstay of Berlin's doomed Jewish community. Husband Aaron may have outshone her in superficial charms, but he and everyone else knew her worth. Here, mother and son are on shipboard, headed to New York harbor in 1946. When they were reunited after the war, Lothar swore they would never be separated again, and he was true to his word; Nelly lived with him and his family in New Jersey until her death at age 80 in 1969. (Background: Nelly's kennkarte, with the middle name "Sarah" marking her as a Jewish female.)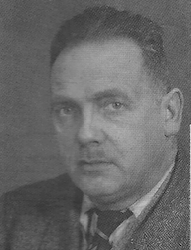 A Patriotic Father
AARON ORBACH was a decorated soldier for Germany in WWI, and the Orbach family's roots in the Fatherland were traced back to the 1500s. He believed that the onslaught of anti-Semitism would soon subside and that his family would thrive in cosmopolitan Berlin. He always insisted he would not leave his beloved country until "the very last train." Aaron missed that train; it was a miscalculation that would cost him his life.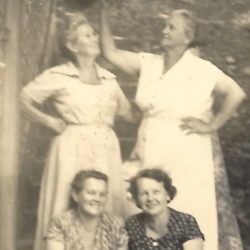 The Righteous Germans
Was the political firebrand ANNE DUDACY (bottom left) once Aaron Orbach's mistress? Nelly never knew for sure. But Aaron was dead, and Nelly and her youngest son had nowhere to turn. She DID know that these gentile sisters were avowed Communists who despised the Nazis. So she swallowed her pride and called; and Anne said immediately: come. (Background: As visiting "Tante Ida Peters," Nelly [floral dress] always wore a special government-issue cross— another fortuitous black-market purchase—bestowed upon exalted Aryan mothers. This helped detract from her very non-Aryan features.)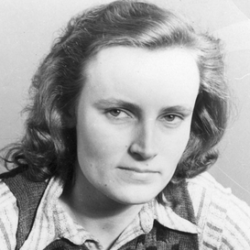 A Courageous Teen
Anne's daughter SYLVIA EBEL helped hide "Tante" Nelly, and became Lothar's partner in (true) crime. Why did she risk arrest—her very life— to help "the divers" pull off risky heists? As she told Vivien, decades later: "My mother always said that when something is right, you feel it in your stomach, and you must always go with that feeling. And of course, it was also... an adventure." She and Lothar remained lifelong friends; they died within months of each other. (Background: in Berlin with Klaus Kowalke [today proprietor of Chemnitz Booksellers], who published a German-language version of "Soaring Underground" in 1998, and translator Ralf Oestereich.)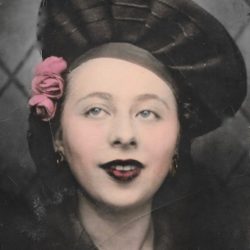 A Loving Wife (Epilogue)
RUTH GEIER ORBACH's family fled Berlin in 1939 shortly before Germany's gates slammed shut. Their entire community was destroyed. Ruth's father, a synagogue cantor, might not have considered Lothar—now "Larry"— religious enough to date his daughter back in Berlin, but life in America was different. They met in Newark, New Jersey, and married in 1949. It was a devoted union and never dull. Ruth sometimes would've liked life to be "a little more boring," but that was never Larry's style.
New Americans
It is an extraordinary testament to the human spirit that, despite everything the Holocaust survivors had endured and lost, they persevered with remarkable success (for the most part, and with virtually no psychological supports)— launching new lives in their adopted countries, raising families, building careers, businesses, communities, philanthropies. Here, LARRY with VIVIEN in the mid-1950s. (Background photo: Larry at granddaughter Arielle's high-school graduation in 2006, wearing the cap-and-gown he could never attain under Hitler.)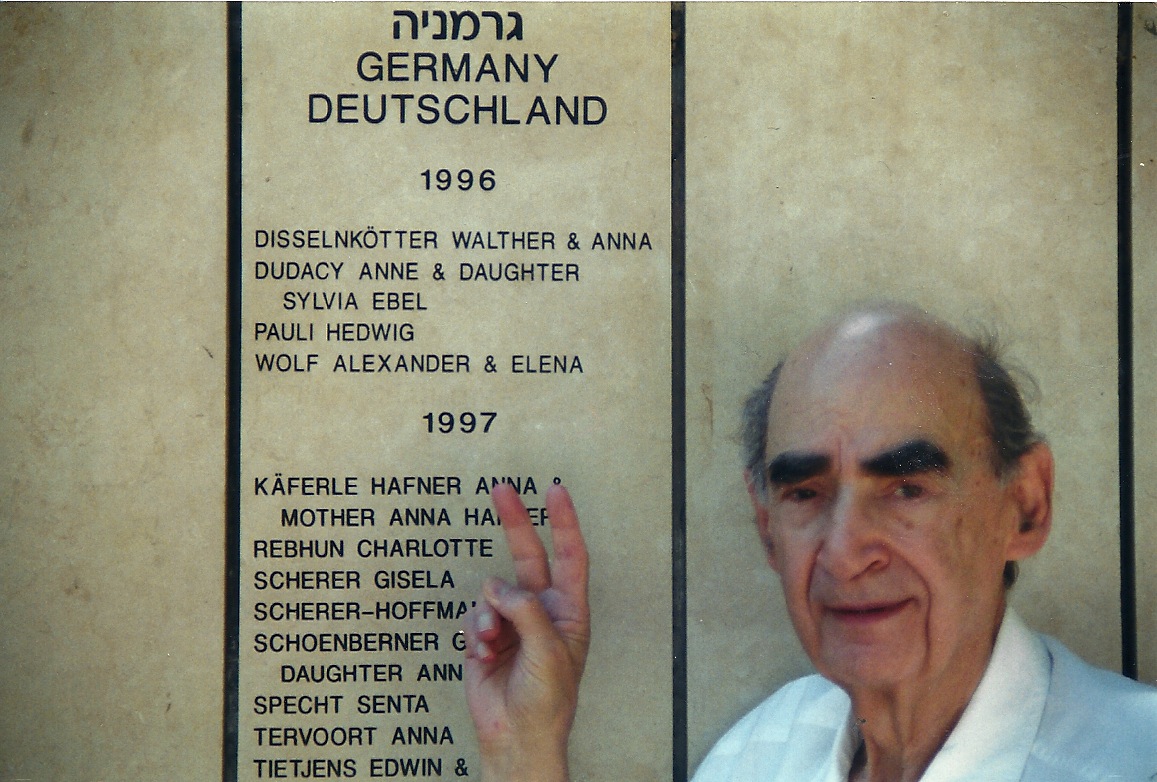 Never Again
At Yad Vashem, the World Holocaust Remembrance Center in Israel: LARRY's testimony enabled Sylvia and (posthumously) Anne and her sisters to be honored as "Righteous Gentiles" for their heroism. (Background: Larry and Vivien [not shown] were keynote speakers at the 1998 Kristallnacht Commemoration in the New Jersey State House in Trenton.)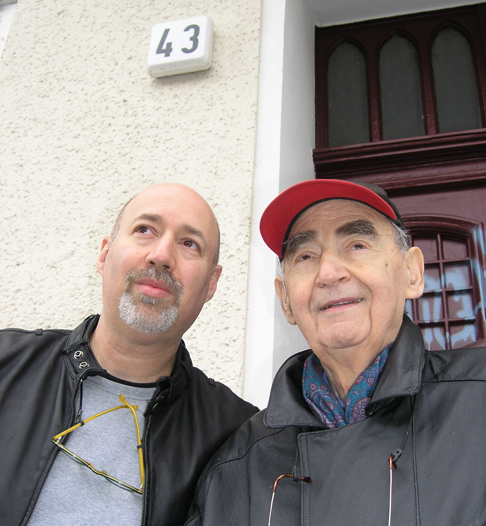 Farewell, Berlin
With son RICKY and family, LARRY takes his final trip back to Berlin and revisits the "Orbach" apartment at 43 Greiswalder Strasse (2006).
BERLIN WALKING TOUR
Follow Vivien on a riveting journey through time, back to her father's old neighborhood, the now-trendy Prenzlaur Berg district. Via Detour Tours' immersive, innovative audio technology, experience Lothar's quest to triumph over darkness, and visit places where he lived, loved and fought. Download Detour's free app to access more than 150 tours in 17 cities, including this one:   "Prenzlauer Berg: The Underground." Postcript: In April 2018, Detour.com  was acquired by Bose Corporation, to become part of a new Augmented Reality platform that is still in development. The Detour Tour App is thus officially  "unavailable" at this time, but users report they are still able to download it and access the tours onsite–for free!  WATCH THE TRAILER:

Reviews
"An EXCITING and UNUSUAL mixture of Holocaust journal, coming-of-age story, and memoir of life on the seedy underside of Berlin during WW II. Lothar (now Larry) Orbach was born in 1924 to a family of assimilated, patriotic Jews who could trace their German lineage back to the 15th century... whose patriotism became their downfall... Written with the help of Orbach's daughter, this is TOTALLY COMPELLING, and one of the rarer stories of the Holocaust."—Kirkus Reviews (starred review, "Book of Special Note")​​
"This is a book to make one both SMILE and WEEP, to admire the generosity of spirit of individuals and to despair of the selfish inhumanity of those who passed by on the other side. Larry Orbach's story of survival against impossible odds opens a window into the SEAMY UNDERWORLD of  wartime Berlin and into the limitless extremes of good and evil of which our species is capable." —Dr. Bernard Wasserstein (On the Eve: The Jews of Europe before the Second World War)
"Reads like a novel... ironic, adventuresome and TRUE."  —Dr. Michael Berenbaum,  former Research Institute Director, U.S. Holocaust Memorial Museum; former President/CEO, The Shoah Foundation
"A FASCINATING account of Berlin under the Nazis and (Orbach's) rather unusual adventures."—The Jerusalem Post
"Imagine a Holocaust memoir so STARTLING, so INTRIGUING and beautifully​ told, that you don't want to put it down from the first page of the introduction until the very last word... Set in a world of desperate souls, fugitives with false identities, and Jews and Aryans of every ilk, from the courageous and kind to the cruel and cowardly, Soaring Underground is part tragedy and part adventure - full of love and sex, terror and joy... Orbach's narrative is consistently clear-eyed, warm, intelligent and never ​bitter... It is a credit to Orbach-Smith and her father that his voice and his unforgettable story emerge so clearly. This is a TRANSCENDENT book."​—The Stamford Advocate/ Greenwich Time
"VITAL, YOUTHFUL reading. Never loses its vivacity or humour. Stands next to Anne's diary on the same shelf, with the same living message."—The British Morning Star
"RIVETING coming-of-age story reads like a cross between a THRILLER and a fantasy."—Alix Kates Shulman (Memoirs of an Ex-Prom Queen; Drinking the Rain; To Love What Is)
"AN IMPORTANT work that must be read by all... a literary work worthy of DOSTOEVSKY."—Der Frankfurter Algemeiner
​​"Pitched as 'a CATCHER IN THE RYE with a Holocaust backdrop' ... smuggling contraband, sexual discovery, and street fights are at the forefront of the memoir. At heart, it's the story of a boy who comes of age in a world where there are no rules, and where, quite literally, thousands of people want him dead."—Matthue Roth, "The Holocaust in Culture: Best of 2009," myjewishlearning.com
"INTENSE, sometimes HILARIOUS and horrifying, the flip side of Anne Frank's diary."—Robert Lipsyte (One Fat Summer; Raiders Night; An Accidental Sportswriter)
"Brings a clear understanding of the evils that bigotry and prejudice may produce... RECOMMENDED for the high school Holocaust-education curricula of New Jersey."​—Dr. Paul B. Winkler, former director, N.J. State Commission on Holocaust Education
"A remarkable collaboration between a survivor and his daughter... kept me up until the wee hours."—Helen Epstein (Children of the Holocaust; Where She Came From; The Long Half-Lives of Love and Trauma [coming 2018] )